Voting is closed
Voting has closed for the 14th Annual Global ETF Awards
®
. Thank you for voting! We will be posting the event details shortly. Winners will be announced on July 19, 2018.
The Annual Global ETF Awards® celebrate industry achievement. The awards provide an opportunity for industry professionals worldwide to be recognized for their contributions to the growth of the ETF marketplace. Winners are selected by votes cast by ETF industry entities worldwide. Award categories include The Nate Greatest Contribution to the ETF Industry award, Best Index Provider, Most recognized ETF Brand, Most Innovative ETF product, Most Innovative Actively Managed ETF, ETF Market-Maker among others. Additionally, a series of awards are determined by analysis of statistical data.
Voting forms are sent out to industry participants worldwide. There are separate categories for the Americas, Europe, Asia Pacific, Middle East and Africa. The voting period is 3 weeks. Please note that there is just one vote per company (legal entity). The voter's information is solely used to verify the validity of the ballot and is not made public. Every investment institution and industry participant worldwide is encouraged to vote. The event is referred to as the OSCARS® of the ETP Marketplace. Winners will be announced on July 19, 2018 at the 14th Annual Global ETF Awards® Dinner.
Prior to the awards dinner, there is a half-day workshop. The workshop brings together the most progressive industry experts to discuss the trends and key developments of the ETP marketplace. This afternoon workshop targets the issues and challenges that currently affect the ETP marketplace. Some of the topics include Passive & Actively-managed ETFs risks and benefits, market liquidity, the indexing landscape, a look at block chain & cryptocurrency products, efficient portfolio construction, regulation and a special roundtable discussion on the history of ETFs.
The Workshop concludes with a cocktail reception that will be held before the Awards dinner.
For further information please click here
To view last years' event, click on the icons below. To view the 2017 winners and pre-2017 events, click here: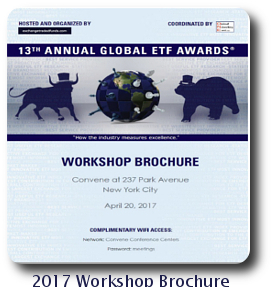 The 14th Annual Global Awards Dinner & Workshop is hosted by exchangetradedfunds.com. Launched 20 years ago, exchangetradedfunds.com is a website that provides information on the Global ETF marketplace. It was the first website launched that provided ETF news & developments. In 2004, it launched another first-an awards dinner that celebrated ETF industry achievements globally.